Archi.ru Texts: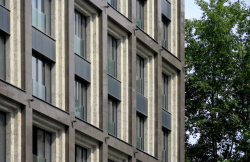 17.07.2020
A comparatively small house standing on the border of the Bolshevik Factory combines two diametrically opposite features: expensive materials and decorative character of Art Deco, and a wide-spaced, even somewhat brutal, facade grid that highlights a laminated attic.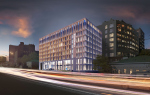 18.12.2019
On the Zemlyanoi Val Street, left of the entrance to the automotive tunnel underneath the Taganskaya Square, in front of the Taganka Theater, and next to the side end of Chocolate housing complex, the eight-story Novotel building, designed by Pavel Andreev, is being completed.
01.11.2019
The high-end residential complex in the Bolshoi Kozikhinsky Lane is an example of an architectural conversation about the methods and sources of stylization, merging with the modern architectural trends. Now add to this a bright highlight inspired by the work by Leo Bakst for "Diaghilev Seasons".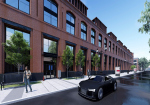 29.05.2019
The concept of reconstructing the former dye-house of the Tsindel factory into laboratories of "Mosavtosteklo" plant preserves and at the same time refreshes the building of the early XX century with a very interesting solution for the silhouette of its top floor.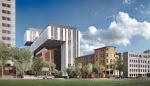 01.11.2018
A concept project that provides for preserving the non-protected cold-storage warehouse on the Dubininskaya Street, located in the very center of the rapidly growing Paveletskaya industrial zone.