Vladimir Bindeman
information:
Member of Union of Moscow Architects, in 1983 graduated from MARHI, after worked for CNIIEP of retail and service buildings (further CNIIEP of town reconstructions) in F.A. Novikov and G.E. Saevich's studio; took part in the projects of large tourist centers and objects of recreation and healthcare. Since 1993 Vladimir Bindeman had been engaged in private practice, mostly in cottage construction sphere. Since 1995 he had been running a project bureau of "Agra-Stroiengineering", a construction company, where many of today employees of "Architecturium" worked. Most projects of that period were countryside low-rise constructions, interiors and reconstruction of objects in Moscow. In 1995-2000 about 30 cottages were designed and built in co-work with"Agra-Stroiengineering". Formation of "Architecturium" was started when they won in "Sovremenny Dom" magazine contest on a settlement of townhouses "NovoArchangelskoe" in spring 2004. They also carried the detailed design work for the settlement of the townhouses, and reconstruction project of hippodrome in town of Ramenskoe, a building of "Hromotron" plant in Moscow, architectural concept of BMW auto service centre on Leninsky avenue, and Taraskovo, Nefedevo cottage settlements.
Buildings and Projects:
Buildings and Projects Shown: 10
Rank all Buildings and Projects / Vladimir Bindeman (14):
Archi.ru Texts: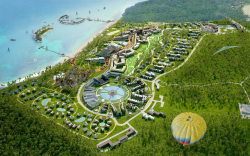 27.04.2018
Headed by Vladimir Bindeman, "Arhitekturium" developed an architectural and town planning concept for the "Paradise Waters" seaside resort situated on the Bintan Island in Indonesia.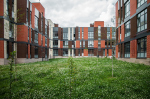 28.08.2017
The implementation of "Andersen" residential area designed by Arkhitekturium: success and losses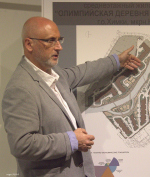 16.05.2016
An interview with the leader of "Arkhitekturium" Bureau about the urban planning situation in the Moscow area, regional specifics of the quarter planning, and help coming from nature in the cause of "humanizing" the out-of-town construction.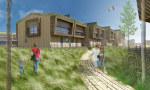 05.02.2016
Designed by "Arkhitecturium" studio headed by Vladimir Bindeman, the family sports and recreation center resembles a scout camp in its structure, while its composition adheres to the ideals of green architecture.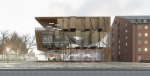 09.11.2015
In the end of last year, Vladimir Bindeman's bureau "Arkhitekturium" took part in the open international competition for the project of a new city library "2.0" that will be built in the very heart of Copenhagen.