Buildings and Projects:
Buildings and Projects Shown: 8
Archi.ru Texts:
11.12.2017
Remodeling the building of the former Sytin printing house on the Pyatnitskaya Street into a modern housing complex, Nikita Biryukov and his team fought a losing battle against the technical specifications – and, instead of the red-brick industrial character of the building, they accentuated the bourgeois nature of the building's original Art Nouveau style.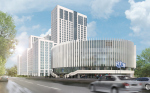 16.11.2017
Working with the Match Point housing complex, ABV Group, headed by Nikita Biryukov, was able to neatly "pack" a considerable amount of floor space, distributing the height of the complex and its imagery among the main functions: a sports arena, a residential building, and a small office one.

01.07.2016
A multifunctional complex designed by "ABV Group" on the land site between the Yauza River and the Bolshaya Pochtovaya Street will not only yield new housing square meters but also a new pedestrian route and an attractive public space.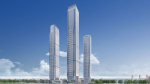 28.04.2016
A complicated land site in the south district of the nation's capital: Nikita Biryukov designs a residential complex consisting of four almost New-York-style skyscrapers that still pay respect to the realities of Moscow.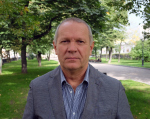 21.09.2015
OOO "Architectural studio Group ABV" lead by Nikita Biryukov is planning to sue its contracting developer company for distorting its architectural concept at the stage of implementing its projects.