Buildings and Projects:
Buildings and Projects Shown: 1
Archi.ru Texts: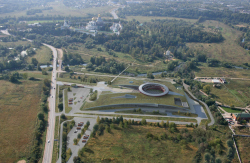 18.01.2018
In 2013, long before Zaryadye Park was laid, City-Arch designed a museum-hill which contains the richest museum collection in the Moscow area.

26.05.2016
The kindergarten project in the city of Beloyarsky is not only energy-efficient and fit to meet the challenges of the local tough climate but is also designed to renew the outdated norms based on outdated views of the preschool education. This is a "reform" project.