Georgy Trofimov
information:
Georgy Trofimov was born in Moscow in 1975 ã.
He graduated from Moscow Institute of Architecture in 2008.
2000 to 2006 Georgy headed the design bureau 2Print.
2006 to 2010 Georgy worked in the Swiss architectural company Arch4.
2009 to 2011 Georgy was engaged in private practice.
In 2010, Georgy headed the project of reconstructing the International press center of the Russian state news agency RIA Novosti

Since 2013, Georgy has been the partner of Kleinewelt Àrchitekten. His most successful projects are: reconstruction of the former "communal kitchen" on the Novokuznetskaya Street in Moscow, Mercedes and Audi dealerships on the ZIL peninsula in Moscow, "Park of the Future" at Moscow's VDNKh, the Winery House in Gai-Kodzor (Armenia), the Movie Theater in the Gorky Park, and others.

Archi.ru Texts: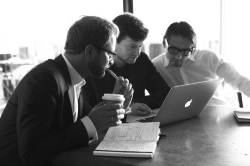 02.02.2017
In this issue, we are speaking to Nikolai and Sergey Pereslegins and George Trofimov, partners and founders of Kleinewelt Architekten, about their outlook on what matters most in the profession of an architect.